Lexington Animal Clinic provides state-of-the-art diagnostic testing for our furry friends. We have the capability to perform appropriate testing in-house or at a reference laboratory. Common diagnostic test include a complete blood count (CBC), chemistry, urinalysis, fine needle aspirate, cytology, intestinal parasite screen, feline leukemia screening and heartworm testing.
What Is A CBC?
A complete blood count (CBC) is a measure of white blood cells, red blood cells and platelets. Changes on the CBC can signify anemia, infection, inflammation, low platelet count or even cancer.
What Is A Chemistry?
A chemistry is more specific to each organ. Chemistries come in different sizes and are selected based on your pet's age and medical concerns. A typical chemistry has the following: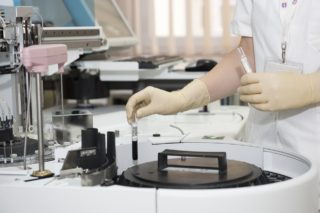 • Protein Screening – Albumin, Total Protein, Globulins
• Liver Screening – Alkaline Phosphatase, Alanine Transaminase, Aspartate Transaminase
• Kidney Screening – Blood Urea Nitrogen, Creatinine
• Electrolytes – NA, CL, K
• Lipids- Triglycerides, Lipids
• Pancreatitis Screening – Pancreatitis Serum Lipase
What Is A Urinalysis?
A urinalysis screens for infections, abnormal cells, excessive protein loss and the ability to concentrate urine.