How Does Chronic Or Long-Term Stress Affect My Pet? 
Long-term stress in pets can lead to gastrointestinal problems such as inflammatory bowel disease and ulcers, musculoskeletal problems such as muscle wasting and fatigue,  immune problems such as delayed wound healing, and skin problems such as poor hair growth.
My Pet Is fearful. Does That Make Him/Her A Bad Pet? 
No. Fear is not usually under cognitive control. The patient is responding, not thinking. Instead, fear promotes very vivid sensory memories of the other animals, the environment, inanimate objects and people. This evokes a fight or flight behavior, which is a normal response in a pet with fear, anxiety and stress(FAS).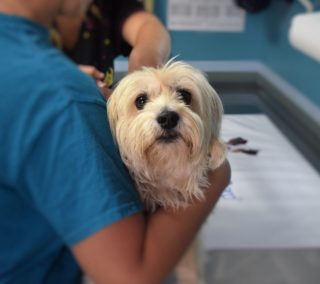 My Pet Is Fearful. Is It My Fault? 
No. Even well-trained animals may not be able to respond to known cues due to fear, anxiety, and stress. This is not the owner's fault, or the lack of training or attempts at dominance.
 What Are Examples Of Patient Stressors?
Stressors are anything in the environment including, people, experiences, locations and inanimate or living objects that trigger FAS.